It's been a busy month for Acadian Embassy artists. The last 30 days saw everyone perform at both the Halifax Pop Explosion and Nova Scotia Music Week in Sydney. They conquered rain storms, strobe lights and poor diets to keep up the pace, and in the end the Embassy's Trevor Murphy took home an award for his Radio Program Halifax is Burning, Sleepless Nights played a brief 15 minute set (their first time on stage together in over two years) and about fifteen people bedded down at the Acadian Embassy suite over the course of four days. Not all at the same time however, no matter how much it felt like it.
With lots of stuff happening we figured we'd compile it for everyone, so here's some updates for the next  month or so.
Quiet Parade shows with Ria Mae/Acres and Acres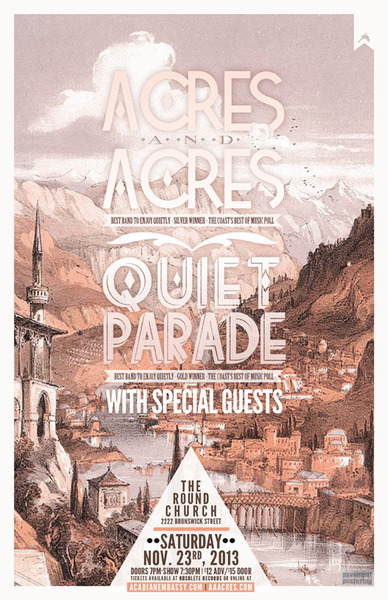 Quiet Parade will be heading out tonight to kick off some NS dates with Ria Mae, pulling double duty as they perform with Ria as her back-up band. Amidst those shows they will also be performing a very special show at the Round Church on Brunswick street with Acres and Acres. Here's a list of dates:
Nov 21 – Wolfville @ The Acadia Chapel – INFO
Nov 22 – Sydney @ Governor's Pub – INFO
Nov 23 – Halifax @ Round Church – INFO
Nov 29 – Yarmouth @ Haley's Lounge – INFO
Nov 30 – Shelburne @ The Seadog Saloon – INFO
Rain Over St Ambrose Hit the Studio with Wintersleep's Tim D'Eon
Rain Over St Ambrose have hunkered down into Confidence Lodge Studios with Wintersleep's Tim D'Eon to record the follow-up to their critically acclaimed (and Music Nova Scotia Award nominated) album "Truth For News". The boys will be there over two weeks, and you can get special updates, videos and exclusive content from the sessions by subscribing to their ioumusic.com page and pre-ordering the album HERE.
KUATO Wrap Up Tour w/ We're Doomed, Cassettes and a New Video
Kuato have wrapped up their Maritime tour with We're Doomed (who have retuned to Toronto minus one bass plus many fond memories). Prior to the tour the band released a short run of limited edition cassettes with two tracks from their upcoming album "The Great Upheaval".
The cassettes pile is dwindling but you can still grab them in the STORE.
The band is also getting set to release their first music video, shot over two days in September.
AA Wallace Remixes/Videos
Since the release of (disambiguation) and his 10×10 video for Temporal Suspension  AA Wallace has been doing quite a lot of remixes for various Canadian groups/artists. He also shot a video for Lipstick & Stethoscopes in September that should come to light just before the new year. Here's a couple that have been released, and expect some more in the near future (including a By Divine Right remix you may recognize from his live set).
The Darcys – Horses Fell (www.aawallace.xxx remix)
Jenn Grant – Walk Away (www.aawallace.xxx remix)
Pick a Piper – Cinders and Dust (A.A. Wallace Acid Mix)